How improving UX can win your SaaS product more investment
When creating a new startup with a great idea, it can be easy to let features come first, while everything else falls to the wayside. We helped guide Pigeon Loans to bring a better user experience to their customers and their team and increased signups by 61% in the process.
8 min read


Dan Spratling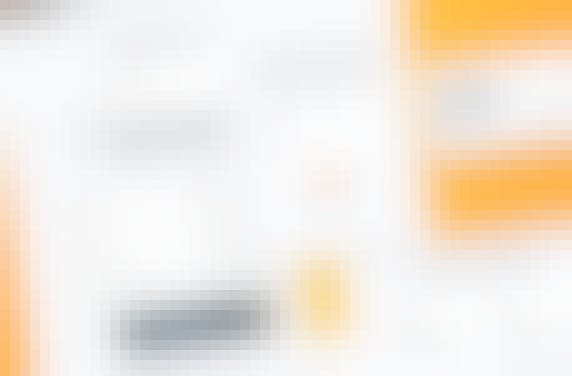 Last updated
February 4th, 2022
Pigeon Loans is a startup that helps family and friends lend and borrow money from each other in a structured environment—no more missed repayments or chasing your cousin for the money they borrowed from you. It's a great idea, and it took off fast. Just see some of their investor testimonials.
Having your idea take off is an exhilarating experience, but it also means your tech can be playing catch up, and if you want to keep your momentum, it's essential to make sure you set yourself up for success.
Who are Pigeon Loans?
They're a platform for sharing money between friends and family. We've all borrowed some money from a family member or friend at one time or another. Usually, it gets forgotten about, and it can drive people apart in the worst situations.
Pigeon Loans sets up that loan in a very similar way to a bank loan. You borrow money from a friend or family member and then pay it back in installments. Pigeon Loans will handle the money transfer and set up a payment plan, and then it'll remind you when you need to pay. Simple, right?
What made Skyward the right fit?
We'd worked with Brian and Tilly in the past, helping to make some minor improvements to the website before their initial launch. These mainly were styling fixes on mobile, and the work wasn't significant. Still, we'd left a lasting impression with our friendly and personable yet professional approach and were their first port of call when they were ready for more substantial improvements.
Fixing their scalability issues
Pigeon Loans' most significant problem was their growth. "But growth isn't a problem," I hear you say. Of course not, but explosive growth leads to shortcuts, which are just problems that haven't happened yet.
We analyzed the current website and considered what Brian thought their most significant pain points were, and we found a few key issues.
It was impossible to edit the website if you didn't know how to code
Search engines were ignoring the website because it was too reliant on JavaScript
The branding was inconsistent and didn't get users attention
These issues mostly came from the fact that the company was a startup, and proving the idea worked was far more critical than getting the little things right. Perfection can come later, but these pain points were starting to catch up with them.
Timeline
We started working on the updated website in June 2021. We decided to split the project into two smaller deliverables, the Marketing website, and the App—taking a microservices approach. Each of these had distinct design and development phases. It took us just under three months to complete both parts.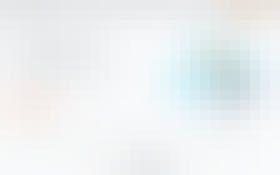 The marketing website
The marketing website was where most of the work took place for this phase. We had a few core goals we needed to meet:
The website had to be much easier to update for developers and content editors.
It had to rank better on Google (improved SEO)
The design had to be improved while still retaining the current branding
Updating the designs
The original designs for Pigeon Loans were put together quickly, with changes also made very quickly. There was minimal design strategy behind the initial decisions, which wasn't a concern at the time. As they grew, customer research showed some page designs didn't connect with users. Pages weren't getting results and were hard to fix.
The site needed a refresh, but we wanted to keep some design decisions, like brand colors, as many other marketing materials relied on them.
We opted to expand the color palette but simultaneously create a more minimal feel to the website to draw the users' attention to the areas that mattered.
One of the most critical design decisions we made was to show the user how simple creating a loan was, which led to the creation of the loan calculator on most website pages. It shows you that creating a loan is as simple as a few clicks.
Creating a new frontend
Pigeon Loans current website had a single point of failure. Everything user-facing was in one place; code, content, assets, all of it. That causes a problem, as the Website and App depend on each other at a code level. That means that any changes to the website could break the App. It also means that if there are any vulnerabilities in the website, the App is also vulnerable - not something you want to worry about when running a finance business.
The website and App have entirely different content. The website will be the same for everybody, with rarely changing content (maybe daily or weekly). The App, on the other hand, will be different based on your user account and will need to update constantly to ensure loans are always up-to-date. So we don't need to load all the content all of the time!
We decided to separate the marketing website from the application and rebuild it. Separating concerns lets us take advantage of the power of Nextjs, a static site generator that builds super fast, SEO-friendly pages for our marketing site, which (among other things) fixes our problems with site content not ranking on Google. We chose NextJS over other Static Site Generators like Gatsby because it's easy to work with and provides everything we need to produce a high-quality website.


While not our primary focus, we were still easily able to achieve excellent lighthouse scores
We paired this with Prismic, a Content Management System (CMS) that allows users to easily and quickly edit content. It's headless, which means it doesn't dictate what we use to code the website and has lots of powerful features like content previewing and draft releases.
Ensuring the website is easy to update
Next, we needed to account for how editable the website was. In its current state, if any changes are required, the website code had to be edited, even if it was only to change content. That's a slow and dangerous way of making updates as you're reliant on developers to make the changes.
Separating the content makes editing much more straightforward, and you can give access directly to your content team so that they can safely, quickly, and easily make changes.
Prismic also offers a feature called "Slices," which we can take full advantage of. Slices are content sections that can be placed anywhere on the page. It's not a new concept but is pretty rare in Headless CMS. Prismic provides the additional benefit of automatically making these Slices testable (so that code changes are always guaranteed to work) and showing the user a preview of the section!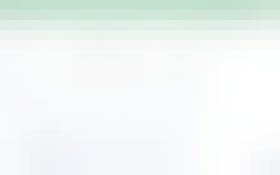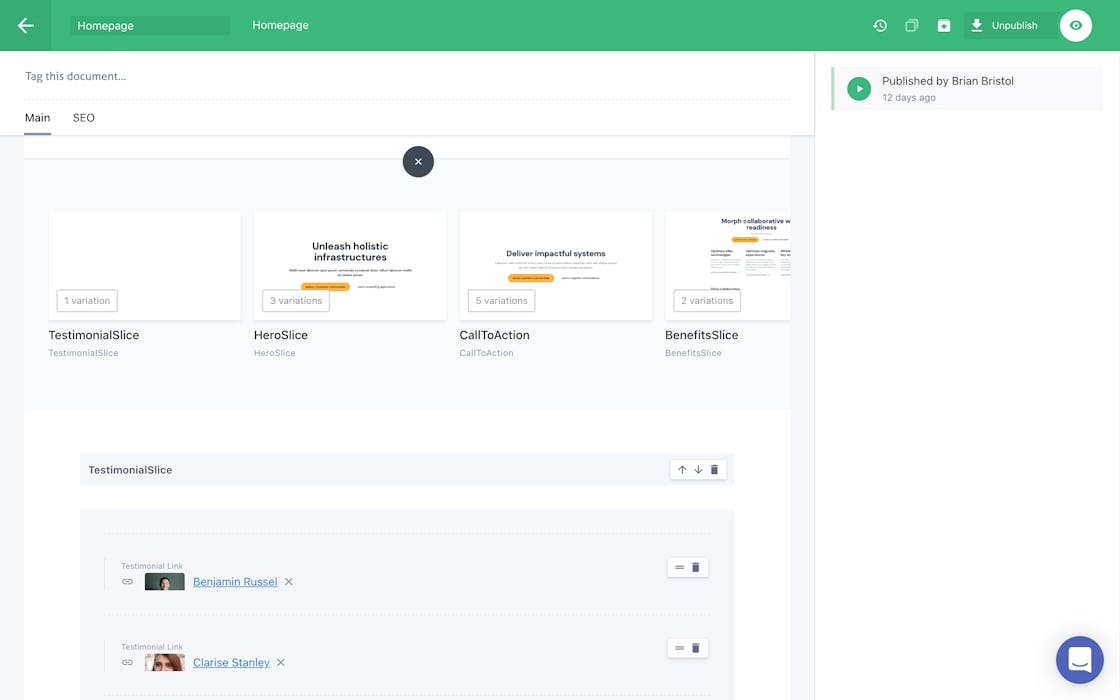 The pagebuilder easily allows us to add any page section anywhere without worrying about broken designs
This setup encourages intelligent reuse of code across the website. Every Slice is a page section, making it very easy to reuse, allowing editors to add new page sections throughout the site.
Creating search-friendly FAQs
One of the most significant improvements we made was to the help center. This area (called FAQs before the name change) held lots of potential and was an excellent resource for those with questions but needed some changes to get the most out of it.
First, we broke each FAQ down into a single page, so every question was now its topic. One question per page encourages each question to get a detailed answer (you won't see any yes/no answers here!). More content is, in turn, much better for search results, so Google should more easily recognize what Pigeon Loans does and provide more links to the content.
We added internal searching to ensure that users could easily find answers to their questions to complement this. That also encourages the creation of more help articles that the user can find simply by searching. We're using Algolia for this, so the search is instant.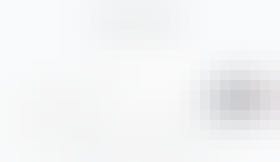 Now users can search for their questions instead of having to dig through lots of FAQs, but individual pages are better for Google search indexing too.
Improving the Application
While the website updates were the main focus of this rebuild, the application needed some love too! We focused on improving the onboarding flow to ensure that the users who signed up due to the new website weren't immediately lost while creating their user account and first loan. The changes would also help bring a consistent design between the website and App to feel like they were still the same brand. It's only a light reskin (though we'd love to come back and contribute more), but it makes a huge difference to the experience. By adding an improved navigation and linking imagery across the sites, the app gains a whole new feel without changing too much of the original design
Our Results
Our primary focus updating the Pigeon Loans website was to improve the user experience and build trust in the product and brand. Even though we were limited in what we could do, primarily focusing on the marketing website, it was essential to give users a good first impression.
61% more signups
Pigeon Loans was already driving lots of traffic to their site through their ad campaigns but struggled to convert that traffic into actual signups. The interest there, but the old website wasn't doing an excellent job of convincing people.
Our new website created a 2500% increase in visits to the signup page, from 1-2 users per day to about 50 users per day on average.


The signup page went from 1-2 views per day the few months before the new website (orange), to around 65 views per day immediately after the new website launched (blue)
We did this by helping users find answers to the questions they were looking for, answering why Pigeon Loans was useful for borrowers and lenders, and providing a help center dedicated to answering more specific questions about the platform.
These changes kept people far more interested in the content of the website, increasing page views by 30%, reducing bounce rate by up to 30%, and increasing pages viewed per session by 36%
It's worth noting that much ad traffic goes directly to the signup page. Updating the signup page itself has led to more conversions, which shows how much benefit including social proof in your landing pages can have on your business.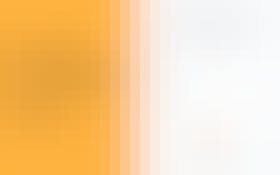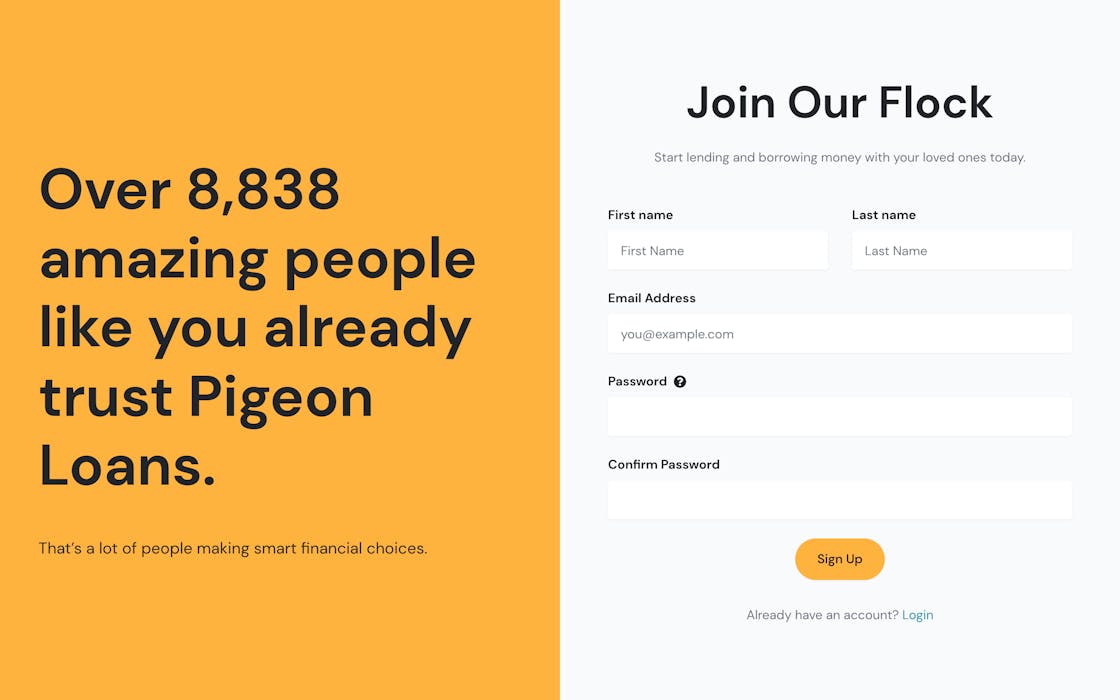 By improving the design and adding social proof, we increased signup conversion rates by 61%
Over-invested by 25%
Pigeon Loans were looking for funding all last year to allow them to grow their platform.
Target: $450k total, with around $100k crowdfunded
Actual: $600k total, with around $150k crowdfunded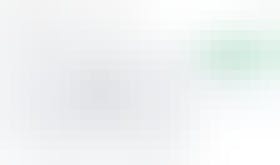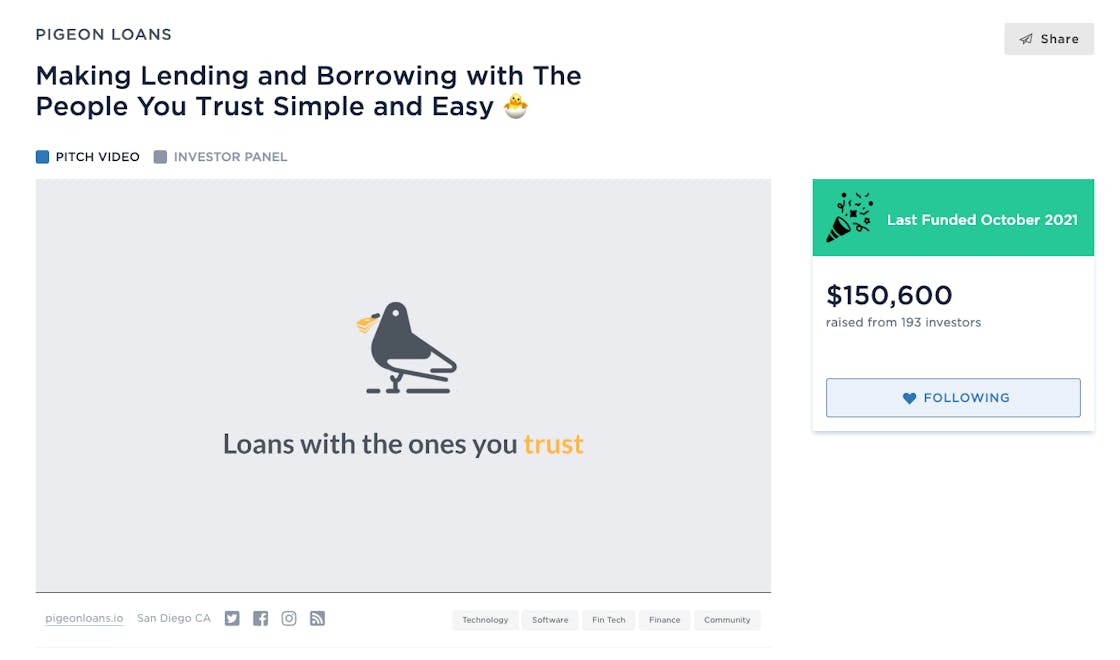 Pigeon Loans were overfunded through crowdsharing and angel investing, with a significant boost after the new website
They were already pretty close to their target before launching their new website; after all, providing a platform for friends and family to lend money in a secure and structured way is a great one.
But after the new website launched with just a few weeks left, investors started fighting for a share.
Why?
The new website gave those investors the confidence they needed that Pigeon Loans would be hugely successful.
Pigeon Loans hit their max investment within a few weeks of the launch (another $150k) and ended up turning away potential investors because they had so much interest
3x cheaper ads
Our changes to the website increased conversion from Google ads dramatically. While we weren't targeting ads with this change, it shows how important improving the user experience can be throughout your marketing.
Cost per click
Before: $15.72
After: $5.02
Ads are now 3x more efficient, without making any changes to the ad themselves. I like to look at this reverse, as we weren't improving the ads but fixing problems elsewhere.
An unoptimized website could make ads 3x more expensive.
Note: All of the above analytics were comparing two months each side of the website launch
Saving money & time
We wanted to improve the site's user experience for everyone, not just customers. That means that when the Pigeon Loans team decides to grow, the site needs to keep up. Our rebuild separated the concerns of the site into marketing and the App. This helps keep things maintainable and more straightforward for team members to understand when making changes (and less chance for things to break if something goes wrong).
We also built a CMS into the marketing site to make changing the website content easier. Before, all the changes were going through Github, meaning developers (i.e., Brian) had to be the ones to make changes. Anyone with an account can make changes and update the page content however they want to. There's a slight learning curve, but it's much easier for anyone on the team to update the website without requiring Brian (who's already busy enough) to make changes.
As a testament to how easy the new CMS was to use, Brian populated 90 documents (pages, blog posts, and help center articles) without any guidance from us. We would usually give some training, but Brian took off and fully populated the site in just a couple of weeks after a quick demo.
Final thoughts
We are delighted with the results we've seen after launching the new Pigeon Loans website. We've achieved a significant improvement in the customizability and user experience of the website, which was our goal from the start, but this had a domino effect that we weren't expecting. Helping Pigeon Loans to get more investment than they had planned helps secure their future as a company, giving them the freedom to grow how they'd like.
While we have made significant improvements to the Pigeon Loans website, there's always more to do. We'll be helping Pigeon Loans grow even more over the next year with some exciting new projects that will continue to change the way you think about small loans - I can't wait to get started.
See something you like?
We'll partner with you, find the best solutions to achieve your goals and make them happen. All you need to do is approve them.